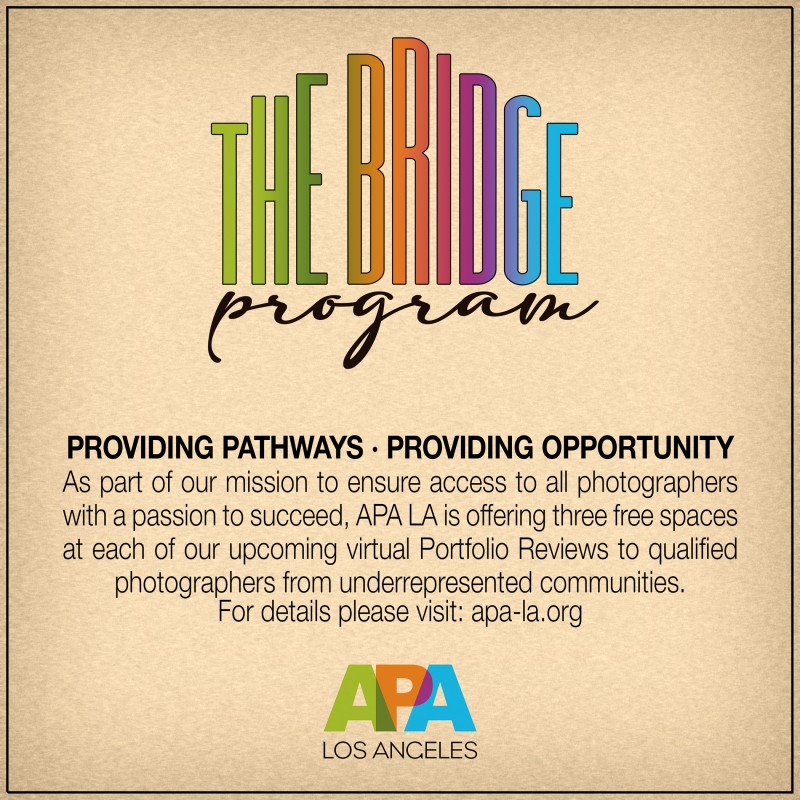 APA LA - THE BRIDGE PROGRAM.
Providing Pathways. Providing Opportunity.

As part of our mission to ensure access to all photographers with a passion to succeed, APA LA is introducing The Bridge Program. With this program we will be offering three free spaces at each of our upcoming virtual Portfolio Reviews to qualified photographers from underrepresented communities. The selected photographers will have an opportunity to meet with top industry creatives and art buyers that can offer feedback and guidance as well as be given an opportunity to network.
If you are interested in applying for one of these free spaces please email Patti Silverstein, APA LA Director, at director@apa-la.com a link to your website and a short bio (no more than 250 words) including a bit of your background as well as the focus of your work. Also, please let us know how you heard about this opportunity.
Once all applications have been received, an APA LA Board committee will review the applicants and from there will select the three to be awarded the free slots.
Past Recipients
"APA LA was a great experience for me as as a fine art photographer in the early part of my career. This was my first portfolio review ever and Patti SIlverstein, Christopher Malcolm, and the rest of the organizers at APA LA really made me feel welcomed while my reviewers reassured me that I was on the right path. The virtual review session was all around amazing: I'm so grateful to have been invited to show my work." David Christopher / Portrait + Fine Art Photographer
"My recent reviews with APA LA were a great career learning experience. The reviewers , who were all from ad agencies, were all very thoughtful and engaged in the review. They provided really useful and specific feedback about what they loved as well as what could be improved." Helynn Ospina / Portrait Photographer
Any questions please email director@apa-la.com