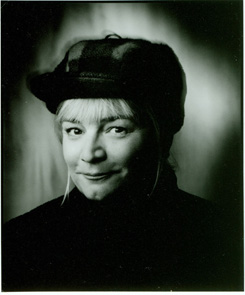 Photo by Mark Seliger
APA LOS ANGELES IS DELIGHTED TO WELCOME
THIS YEARS OFF THE CLOCK GUEST CURATOR
LAURIE KRATOCHVIL
BIOGRAPHY
Laurie Kratochvil is a photography consultant on visual projects that include magazines, books, and film. She also is a photography collection archivist and appraiser. She began her career at the Los Angeles Times as a photography editor and went on to work for numerous national publications before joining Rolling Stone Magazine in 1982. During her twelve years there as photo editor, Kratochvil saw the magazine win every major photography award including the National Magazine Award.
Kratochvil was the founding photography editor for InStyle Magazine and worked there until 2005 before leaving to start her own visual consulting business, working with consumer magazines such as, O the Oprah Magazine, Bloomberg Personal, Men's Journal, Mens's Health. In 2009 she was hired by Reader's Digest Development to consult on new titles as well as the magazine's international editions.
Kratochvil's book projects include:
New York Time's best seller, Rolling Stone-1989, The Photograph's, Africa by Herb Ritts-1994, Cyclops by Albert Watson, Las Vegas-1994, CUBA-Picturing Change by E. Wright Ledbetter-2002, Mil Besos by Ruven Afanador-2009,
Las Vegas/Strip Search, Albert Watson-2010, Angel Gitane, Ruven Afanador-2014, Diana Vreeland, The Modern Woman-2016, 50 Years of Rolling Stone-2017
Kratochvil's exhibitions include:
Rolling Stone: The Photographs, A travelling exhibition In the U.S. and Canada, November 1989-April 1991
Perpignan '92: Visa Pour L'image, France, September 1992 25 Years of Photography at Rolling Stone
Museum of Photographic Art,San Diego, Ca, June-September 1993
Perpignan '93: Visa Pour L'image, France, September 1993
Perpignan '94: Visa Pour L'image, France, September 1994
Instyle 5th Anniversary, A Travelling Exhibition, U.S. 1999-2000
Art Basel Miami – John R. Hamilton: Hollywood Exposed, December, 2014
Herb Ritts, The Rock Portraits, Rock and Roll Hall of Fame, Cleveland Ohio, 2015
Morrison Hotel Gallery, Sunset Marquis, John R. Hamilton: Hollywood Cool, 2015
John R. Hamilton: Hollywood and the American West, National Cowboy and Western Heritage Museum, Oklahoma City, OK Feb-May, 2017
Kratochvil's Film Project's as a visual consultant:
Zero Dark Thirty, 2012 Detroit, 2017
Kratochvil was a jury member of World Press Photo, and is a faculty member in the continuing education program at The International Center for Photography. A native of Newport Beach, California, Kratochvil lives in New York City and Southold, New York.