Women In Photography: The Female Lens Perspectives 2019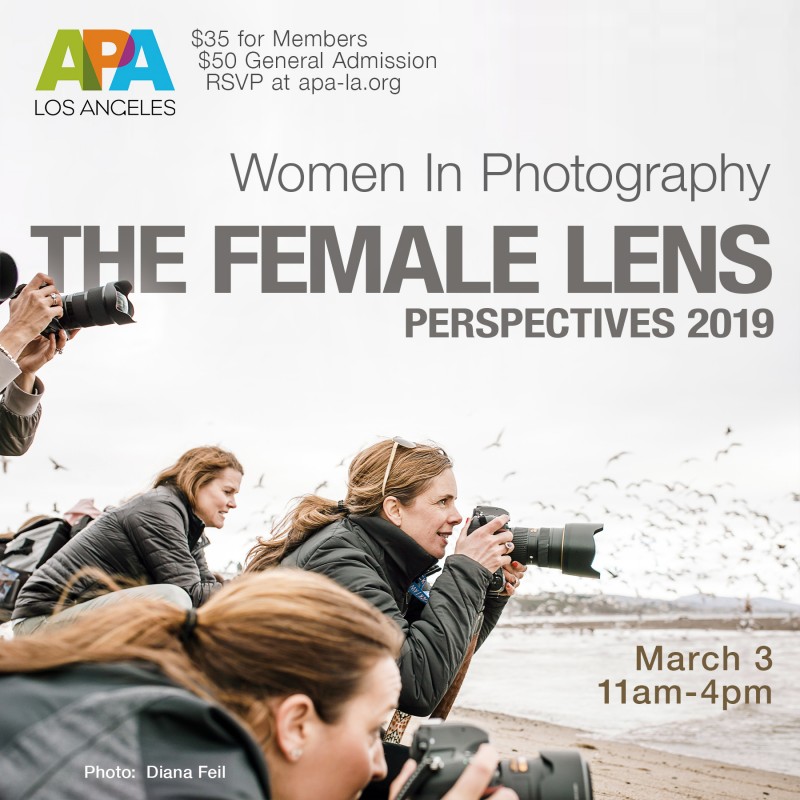 WOMEN IN PHOTOGRAPHY: THE FEMALE LENS PERSPECTIVES 2019
March is Women's History Month and what better way to celebrate than to inspire a community
APA Los Angeles would like to invite you to join us as we support and celebrate women in the photography industry at our Second Annual Women In Photography Event.
The panel will cover topics such as diversity within the industries, women's advancement, work/life balance, the creative process, social media, mentorship, activism, challenges working women continue to face on set and beyond.
This is a teaching moment! We are so honored to have a panel of successful women share their stories with us. Come grow, learn, network and get inspired.
TWO PANELS - ONE GREAT EVENT!
GUEST PANELIST
Moderator - Femi Corazon - Creative and Content Director and Photographer
Moderator - Jacqueline Bovaird - Photo Producer at Apple
Amanda Charchian - Photographer
Lisa Linke - Photographer
Michele Romero - Senior Editor at Entertainment Weekly + Creative Content Producer
Jen Weg - Manager, Global Creative Marketing at Netflix
Cecily Chambers - Founder and Agent at Form Artists
Deepi Ahluwalia - Writer and Photographer
Suzanne Donaldson - Senior Director Creative Production Global Brand Imaging at Nike
Brenna Britton - Head of Photo & Video- Originals Marketing at Amazon Studios
Ashley Rose Ramirez - Photo Assistant
Jill Roy - Owner and Photo Producer at 3 Star Productions
More to come
ALL ARE WELCOME TO ATTEND
The day will begin with a panel discussion, then networking, then our second panel discussion.
IN ATTENDANCE:
Photographers
Creatives
Consultants
Men
Women
CHECK IN AT 10:30A