APA LA & AskSternRep: Navigating the Unknown - Wednesday April 21, 2021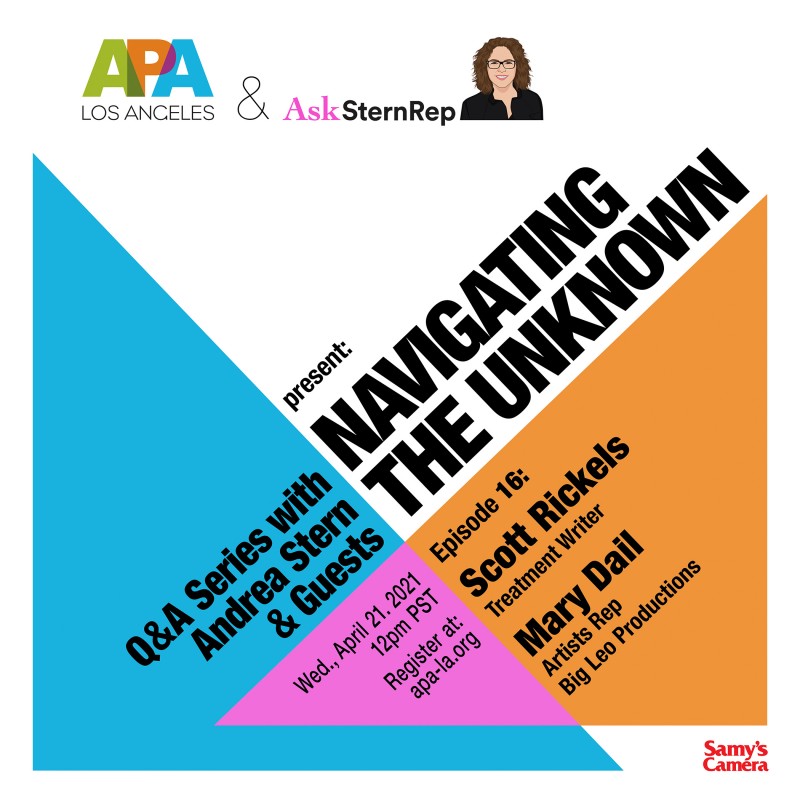 Q&A series with Andrea Stern of @AskSternRep

Wednesday April 21st - Episode 16

What goes into an impactful TREATMENT that gets the job?
Guests:
• Scott Rickels - Treatment Writer
• Mary Dail - Artists Rep / Big Leo Productions

Andrea Stern:
Andrea Stern is the founder of SternRep, an LA based, boutique agency representing a group of passionate and talented commercial photographers in the product, automotive and lifestyle industries among others.

She is also the founder of @AskSternRep – free resource forum for photographers and entrepreneurs.

https://www.sternrep.com @asksternrep

Scott Rickels:
Scott studied theatre in undergrad at TCU in Fort Worth, Texas and attended USC's School of Cinematic Arts for graduate school. He spent a decade working in all areas of film and commercial production before becoming a full-time freelance writer six years ago. He mostly specializes in comedy and has completely lost track of how many treatments, scripts, and punch-ups he's written. The work includes numerous award-winning campaigns for brands such as Apple, Amazon, Microsoft, GEICO, Coca-Cola, StateFarm, PlayStation, Xbox, Disney, and every car company out there. He works with directors, photographers, and production companies all over the world.
@scottrickels

Mary Dail:
Mary Dail is the Founder and Creative Director of Big Leo Productions (Est. 2003), an agency representing a constellation of visual creators with expertise ranging from food, interiors, lifestyle, hospitality, and beauty. Profoundly influenced by her tenure at Martha Stewart Living Omnimedia as photography editor, she has spent years cultivating a stellar roster of talent, continually evolving with client needs and adapting to new markets.

https://bigleo.com @bigleoproductions