APA LA & AskSternRep: Navigating the Unknown May 7,2020
Join us for this Q&A series with Andrea Stern of @AskSternRep as she speaks to different members of the photo community about ways to navigate the new road ahead. Guests will include photographers and creatives.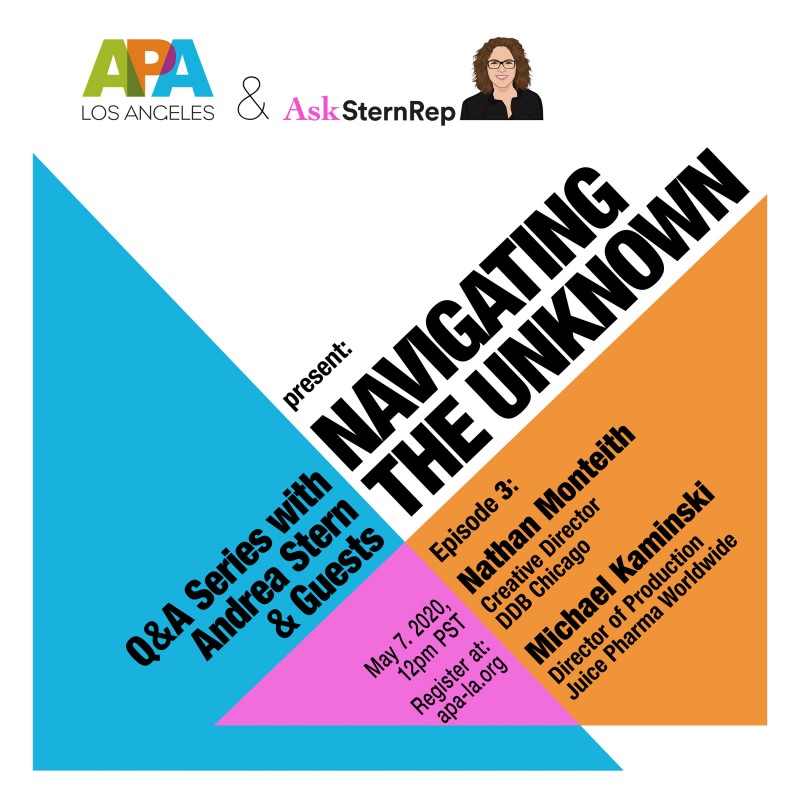 Andrea Stern:
Andrea Stern is the founder of SternRep, an LA based, boutique agency representing a group of passionate and talented commercial photographers in the product, automotive and lifestyle industries among others.
She is also the founder of @AskSternRep – a free resource forum for photographers and entrepreneurs.
Drawing on her experience in commercial production, film sets, still photography, and boxing training, Andrea developed a uniquely genuine and enthusiastic style of representation.
Since 1995, SternRep has brought together top photographers, retouchers, and clients from their respective fields, offering each personalized care and service, while building rewarding, long-term relationships. Clients have included Apple, Google, Target, Subaru, Hyundai, McDonalds, Samsung, Coke, Vans, Wells Fargo, plus many more.
https://www.sternrep.com @asksternrep
Guest: Creative Director, DDB Chicago - Nathan Monteith
"I thoroughly enjoy my time in advertising because of three things: I'm a morning person, I'm frustratingly positive, and I get to help young creatives do something with all that unfocused fresh brain they have. The morning thing - I'm a fan of how the brain works, and I know that the logical area of the left hemisphere, likes to sleep in late. Because of this, mornings yield some of the most creative work, when you're up early enough to do it. At 6am there's no logic around to ruin the fun. The frustrating positivity - it's the only way to do this job right and not let the hills and valleys of the hits and misses throw you off your game. The young creatives - they're puppies. They keep us all young at heart."
Clients: Jeep, Kohler, Heineken, Viagra, Fiat, State Farm, Capital One, US Army
Guest: EP, Director of Production, JUICE Pharma - Michael Kaminski
JUICE Pharma is a full-service health care communications company, specializing in professional, patient, and consumer promotion and advertising.