APA Open Talk May 7, 2020
An online gathering for our photo community to come together, ask questions, discuss, share and aid one-another in this turbulent time. Watch previous Open Talk and other APA talks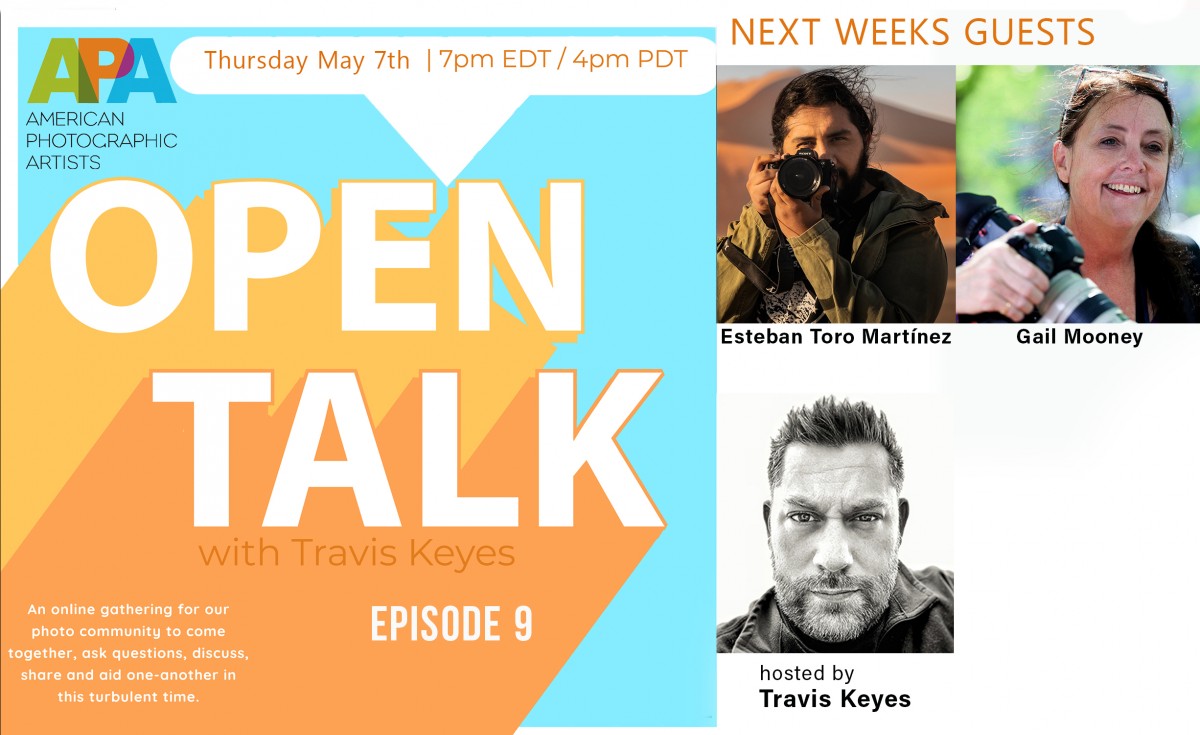 Gail Mooney started out studying architecture at Syracuse University. After twoyears, she realized she was more interested in seeing the architectural wondersthan learning how tocreatethem. Shedecided to take a two-monthbreak fromcollege and meetup with a friend and travelaround Europe. Thattwo-month tripturned into ayearlongback packing odyssey around the world.When Gail returned,she knew she wanted to purse a lifestyle of travel and exploration and thought thatphotography would lead to that end, and she enrolled at Brooks Institute ofPhotography in Santa Barbara, CA.At the time she was one of six women in a schoolof six hundred. It was her first experience being in a predominately maleenvironment. Shealsomet her husband, Tom Kelly at Brooks and after graduating,they moved back East where bothwerefrom. After briefing assisting NYCphotographers, theydecided to go out on their own andformedtheteamKelly/Mooney.They worked together on numerous editorial assignments for Travel & LeisureMagazine and later onshotAnnual Reports for Fortune 500 companies. Both Tomand Gail pursued their own individual assignments andGailnaturally gravitated tomagazines.Sheis a born storyteller and her love forthe experiencewas as greatasherlove of photography. She shot18 feature storiesforthe National GeographicTraveler and numerous stories forSmithsonian and Islands.Gailis also usually working onher own projects, which she refers to as self-initiatedprojects. When digital videofirstcame along she knew that this "new" medium hadpossibilities for story ideas that needed sound/audio.Her first multi-media projectwas aboutThe Delta Blues Musicians.It was at that time thatGail addedvideo/filmmaking to her skill sets. Her first feature film,Opening Our Eyeswas ajoint creation with her daughter Erin. They traveled around the world for 99 days,makinga film about9ordinary people, on six continents,making a positivedifference.Her current film,Like A Womanis about women,who are breakingbarriers,andareworkingin male-dominatedprofessions that had not been open tothem just a short time ago.
Esteban Toro is a travel photographer. Using photography as an excuse, he has travelled to more than forty countries around the world. His passion is to experience the world and capture it all with his camera. He is a Sony ambassador, represented by YellowKorner Gallery worldwide, a photography professor, leading many creative workshops, photography expeditions and conferences about his own work.
When Esteban is not photographing some remote country, he's working in the studio, processing his photographs and researching about new places to visit and choosing his next adventure. Also, his professor career and photography curator work has turned him into a restless person who is always curious looking for new references to share with his students and photography lovers. This passion turned him into an international World Press Photo Global Talent nominator.
His work has been exhibited in many digital and printed magazines around the world, as well as collective and individual exhibitions, which has turned him into an important reference in the latinamerican photography field.