Off The Clock 2021 Call for Entries *DEADLINE EXTENDED to April 5th 12PM PST*
Contest is closed. Thank you to everyone who entered! Good luck.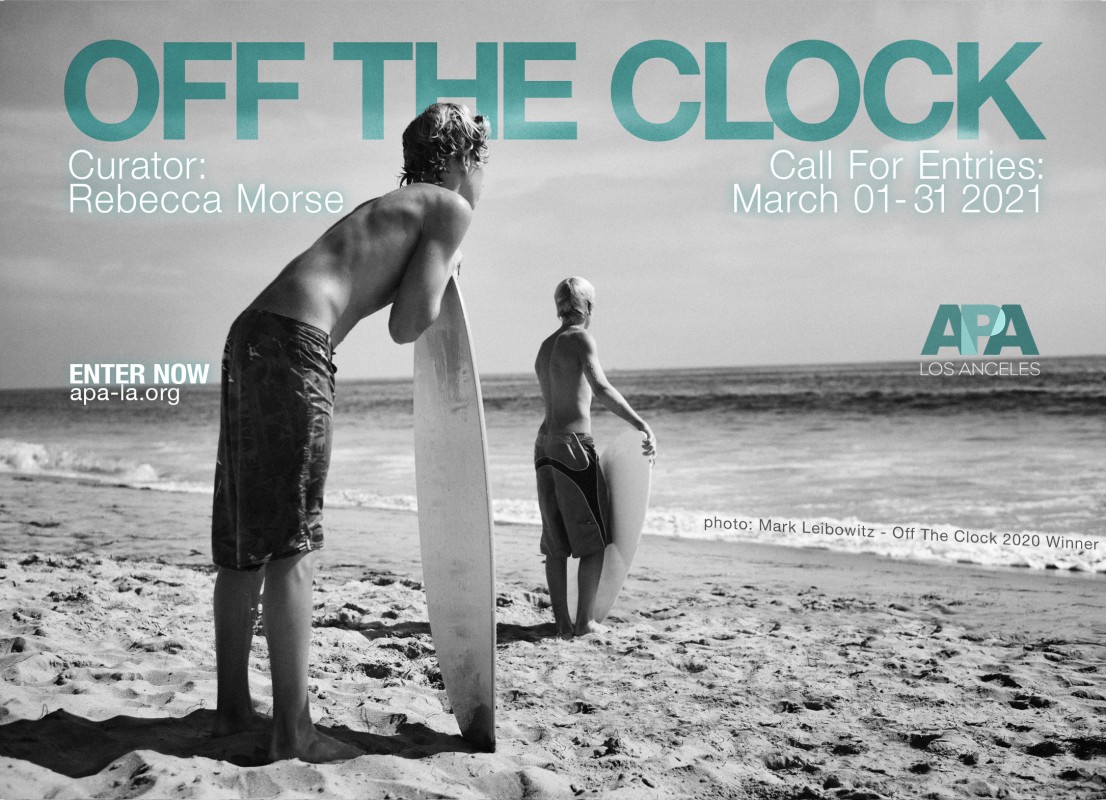 APA LA OFF THE CLOCK 2021
CALL FOR ENTRIES OPENS: March 1, 2021
CALL FOR ENTRIES FINAL DEADLINE:
* DEADLINE HAS BEEN EXTENDED TO APRIL 5TH 12PM PST *
APA LA is pleased to announce the tenth annual OFF THE CLOCK curated photo competition. OFF THE CLOCK is the pre-eminent opportunity to present your inspired personal photography to the world. Each year APA LA invites a well-respected, influential visionary from the international photo community to contribute their talent towards curating this prestigious exhibition. This year we are honored that Rebecca Morse, the Curator of the Wallis Annenberg Photography Department at the Los Angeles County Museum of Art (LACMA), has accepted our invitation to apply her unique vision in carefully selecting her top one hundred images from all submissions. And this year, as an added incentive, Ms. Morse will also select three images as Best In Show!
EXCEPTIONAL EXPOSURE
Once our curator has chosen her 100 favorite images, the winners' work begins to gain exceptional exposure through our beautifully printed catalog which will be sent to each winner as well as key influencers in the advertising, corporate and fine-art sectors. The winner's images will also gain exposure through our online gallery and artist features on our social media and web platforms. Through the APA global network, your finest personal work will be available for viewing by thousands of potential clients, gallerists and curators throughout the world.
In addition, each of the three Best In Show winners will be awarded a personal one-on-one twenty-minute portfolio review session with the curator–an invaluable opportunity for you to meet and discuss your work with one of the world's renowned photo curators. Best In Show winners will also be featured on the APA LA website and will receive their winning image beautifully custom matted and framed by one of the West Coast's most respected fine art framers.
SHOW YOUR FINEST PERSONAL WORK
OFF THE CLOCK is easy to enter with no confusing categories, no image series restrictions, and no creation date restrictions. The most important parameter is that your submitted work should be strong, original, creative and truly personal. Entries may be black and white, duotone, or color, and should be self-commissioned and must represent what you consider to be your finest personal work. Our easy-to-use online submission interface allows you to enter as many images as you like! What are you waiting for? Give it your best shot. Show the world your personal vision. The curator will limit the number of selects from any one entrant to a maximum of four.
ENTRY FEES
APA Member Entry Fee: $20 per image
APA Non Member Entry Fees: $40 per image
Not an APA member? Now is a great time to JOIN APA and receive up to a 50% discount on each image submission. Current APA member looking to upgrade your membership contact: members@apanational.org
Questions? Please email: director@apa-la.com
Ready to ENTER? Here is what you need to know ....
SUBMISSION GUIDELINES
Only digital images are accepted through our online submission process.

Image size no smaller than 800 pixels on the long side and at most 1280 pixels, 72 dpi, sRGB color profile, with no visible identifying text/symbols

Image files need no unique title by the entrant. Image files are identified to the entry and assigned an arbitrary ID for the "blind" judging.

A single entry is one image.

Sorry, no panoramas, diptychs or triptychs will be accepted.

While there is no limit to the number of single entries submitted, we recommend uploading no more than 10 images at a time (Check out, before submitting additional images).

You may not enter an image that has won Off The Clock in previous years.

You may not enter substantially similar images that have won Off The Clock in previous years.

There is no restriction on when the entry image is created.

The curator for Off The Clock may select a maximum of four images by the same artist.

You do not need to be an APA member to enter the contest, but members receive a discount on entry fees.

Anyone claiming APA membership must be current in their dues at the time of entry and when winners are announced
UPLOAD GUIDELINES
All files must be jpgs with a file size limit of 10mb.
Simple file naming conventions please do not use special characters like @, #. Title name is not seen by judge so it is ok to use your name in the title.
Image size no smaller than 800 pixels on the long side and at most 1280 pixels
Color profile is sRGB, image resolution 72ppi
Images should have no visible identifying text/symbols; entries are assigned an arbitrary ID for the "blind" judging.
Single image entries only
About APA: American Photographic Artists (APA) is celebrating its 40th year as a leading national trade organization run by and for professional photographers. With a culture that promotes a spirit of mutual cooperation, sharing and support, APA offers outstanding benefits, educational programs and essential business resources to help its members achieve their professional and artistic goals. With chapters in Atlanta, Los Angeles, Chicago, New York, San Diego, San Francisco, Charlotte, the Northwest and Washington, DC, APA strives to improve the environment for photographic artists and clear the pathways to success in the industry. Recognized for its broad industry reach, APA continues to expand benefits for its members and works to champion the rights of photographers and image-makers worldwide.
https://la.apanational.org
About The Curator: Rebecca Morse is the Curator of the Wallis Annenberg Photography Department at the Los Angeles County Museum of Art (LACMA), the largest art museum in the western United States. She was previously Associate Curator at The Museum of Contemporary Art, Los Angeles (MOCA) where she organized such profound exhibitions as Amanda Ross Ho: Teeny Tiny Woman, Cai Guo-Qiang: Ladder to the Sky, Rodarte: States of Matter, The Artist's Museum, and Florian Maier-Aichen.
Since joining LACMA in 2013, Morse has curated inspired exhibitions of work by Larry Sultan: Here and Home, Thomas Joshua Cooper: The World's Edge and Sarah Charlesworth: Doubleworld. Morse's upcoming projects at LACMA include Barbara Kruger: Thinking of You, I Mean Me, I Mean You and Objects of Desire: Photography and the Language of Advertising that examines the ways in which artists have mined the language of commercial photography for their own work.
With her broad experience in the fine art and museum world as well as a deep knowledge of photography's roots — Morse has a singular and invaluable perspective on the medium of photography and its evolving role in contemporary art. APA Los Angeles is honored and humbled that Rebecca Morse will be joining us to curate Off The Clock 2021.
https://www.lacma.org
Questions? Please email: director@apa-la.com