Meet the Curator: A talk with Rebecca Morse, February 26th 1pm PST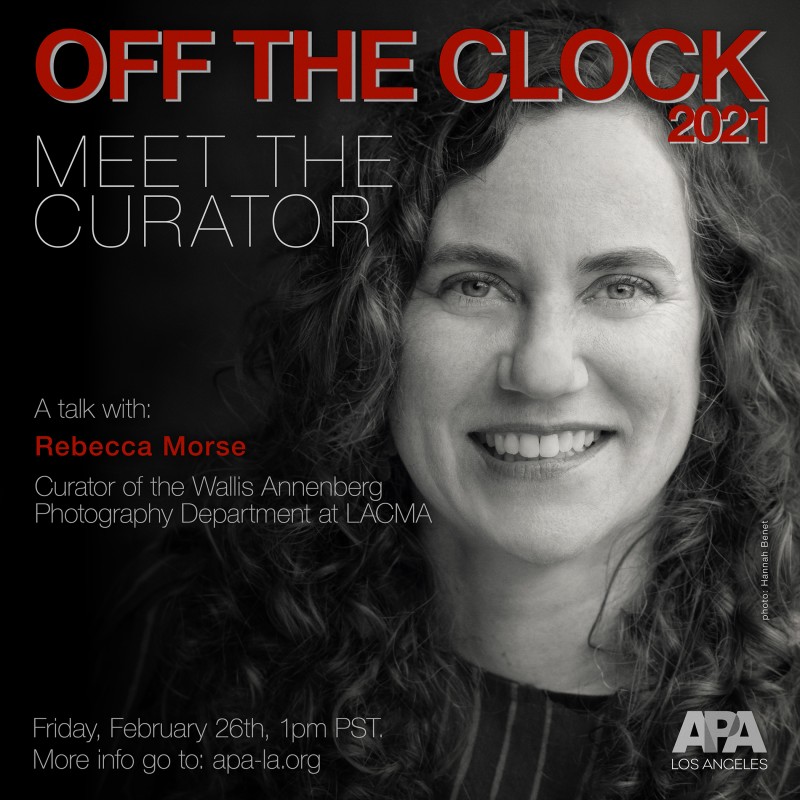 ©Hannah Benet
Meet the Curator: A talk with Rebecca Morse
American Photographic Artists, Los Angeles (APA LA) is proud and honored to announce that Rebecca Morse, the influential Curator of The Wallis Annenberg Photography Department of The Los Angeles County Museum of Art (LACMA) will be curating our 2021 Off The Clock Competition.
To kickoff our March 1, 2021 Off The Clock call for entries, Rebecca Morse will be presenting an online talk moderated by David Robin (member of the APA LA Board of Directors) on Friday, February 26, 2021 at 1PM PST. This is your chance to meet and hear Ms. Morse discuss the evolution of contemporary photography and share her aesthetic, point of view and appreciation of the photographic image.
Since joining LACMA in 2013, Morse has curated inspired exhibitions of work by Larry Sultan: Here and Home, Thomas Joshua Cooper: The World's Edge and Sarah Charlesworth: Doubleworld. Morse's upcoming projects at LACMA include Barbara Kruger: Thinking of You, I Mean Me, I Mean You and Objects of Desire: Photography and the Language of Advertising that examines the ways in which artists have mined the language of commercial photography for their own work.
Morse was previously Associate Curator at The Museum of Contemporary Art, Los Angeles (MOCA) where she organized such profound exhibitions as Amanda Ross Ho: Teeny Tiny Woman, Cai Guo-Qiang: Ladder to the Sky, Rodarte: States of Matter, The Artist's Museum, and Florian Maier-Aichen.
With her broad experience in the fine art and museum world as well as a deep knowledge of photography's roots — Morse has a singular and invaluable perspective on the medium of photography and its evolving role in contemporary art.
Join us for this exciting event and get a leg-up prior to entering the Off The Clock competition!