APA Biz Talk April 14, 2020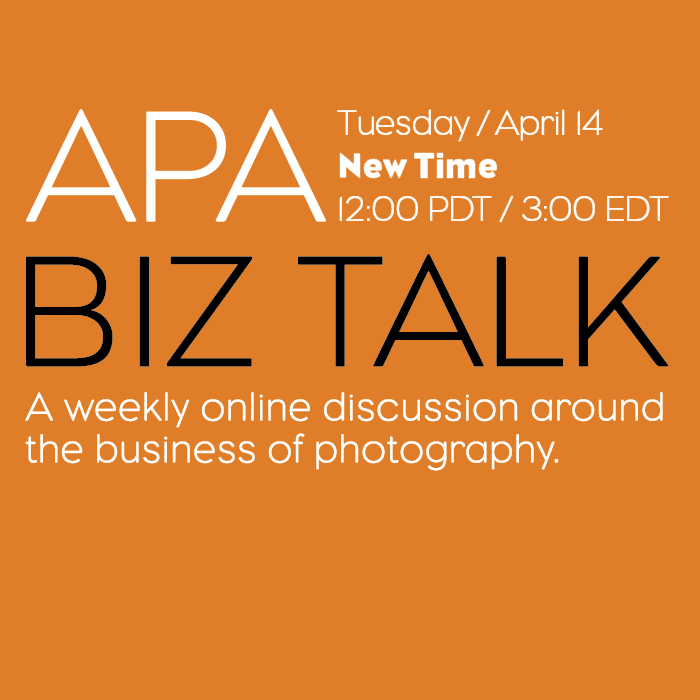 APA BIZ TALK is our new, online series discussing business issues relevant to the photo community.
Each week we will take a deep dive into specific topics including financial, legal, contracts, copyright, and marketing.
On Tuesday, April 14, we will begin one-hour later then our weekly scheduled time to allow for those who may be on an earlier webinar re Filing for Unemployment in The Entertainment Industry (you can find out about that webinar here: https://apanational.org/news/entry/photographer-to-photographer/ and all APA webinar on our events page)
APRIL 14: 11pm Pacific, 2pm Central, 3pm Eastern
Register in advance:
This week we continue to focus on emergency funds for small businesses as a result of COVID-19.
This week we'll discuss the latest on the Paycheck Protection Program and Pandemic Unemployment Assistance benefits. A lot of our community has successfully submitted PPP applications while others still haven't. Topics will include:

- Discuss what to be aware of with PPP moving forward and what would cause the loan to not be forgivable.
- If you're still stuck without a bank to work with we will have suggestions of what to do.
- Talk about the latest news on the Pandemic Unemployment Assistance benefits.
- What if you have two PPP applications in with different banks?
APA SF board member and photographer Nader Khouri will host.
Remember to find all resources related to Coronavirus here https://apanational.org/news/entry/apa-coronavirus-resource-hub/