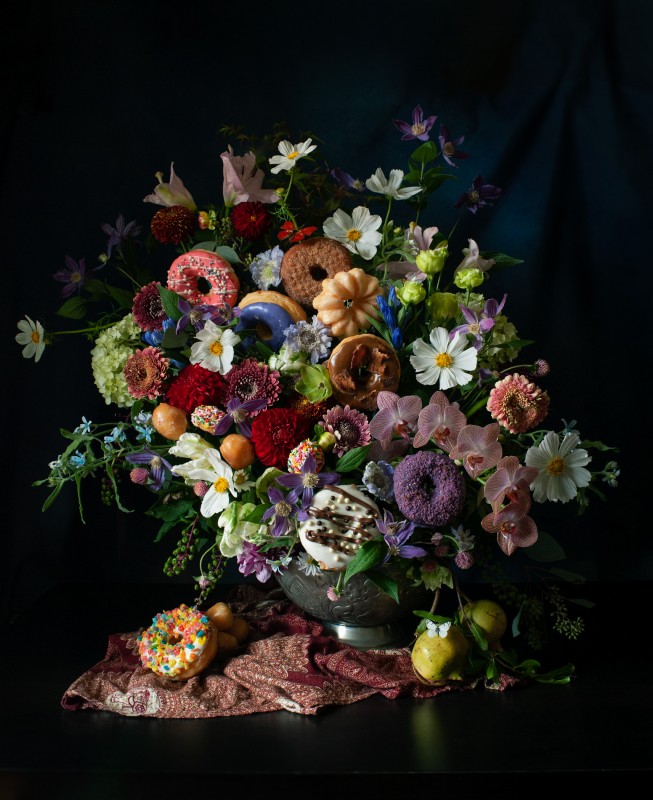 ©Stephanie Shih, Breughel's Breakfast, Off the Clock Best of Show winning image
By Polly Gaillard
What do a linguist and a commercial photographer have in common? Answer – Stephanie Shih, an © 2022 Off The Clock Best in Show Winner selected by Paul Martineau, the Curator of Photographs at the J. Paul Getty Museum. Stephanie, a linguistic researcher in cognitive science is also a thriving food photographer and a former wedding cake maker and food blogger.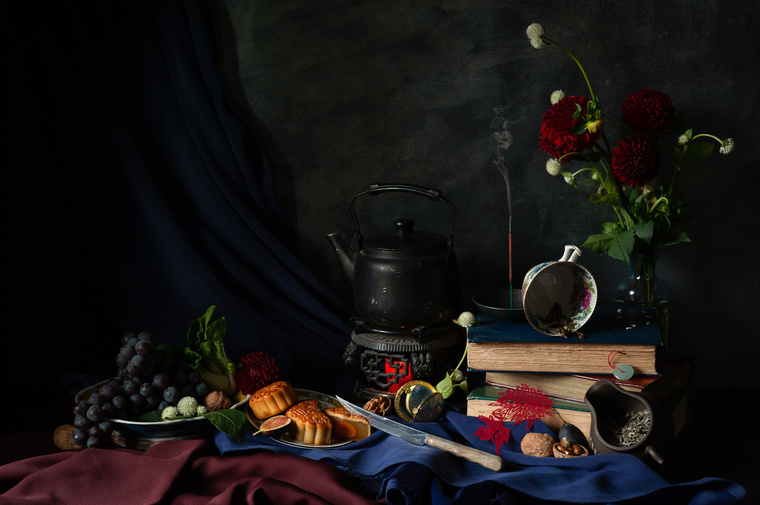 ©Stephanie Shih, Midautumn Memento Mori
Stephanie's elaborate images from her Asian American Still Life series remind me of 17th Century Dutch Masters paintings – the beautiful natural window light falling upon flowers, fruits, vases, donuts, pop tarts, and sticky buns could have been pictured on canvas by Vermeer himself minus the modern day sweets. Stephanie selects flowers for the photographs based on their presence in the Dutch Masters' paintings, but sometimes her selection of flora, food, and objects nods to her Asian culture – like the presence of orchids. She explains,
There have always been other cultures represented in European still life tradition. For example, Asian vases and flora and fauna from the East. I want to bring that out and highlight how seamlessly we belong in the tradition often categorized as European. While many of the objects in my pictures may feel familiar to many, that's as it should be.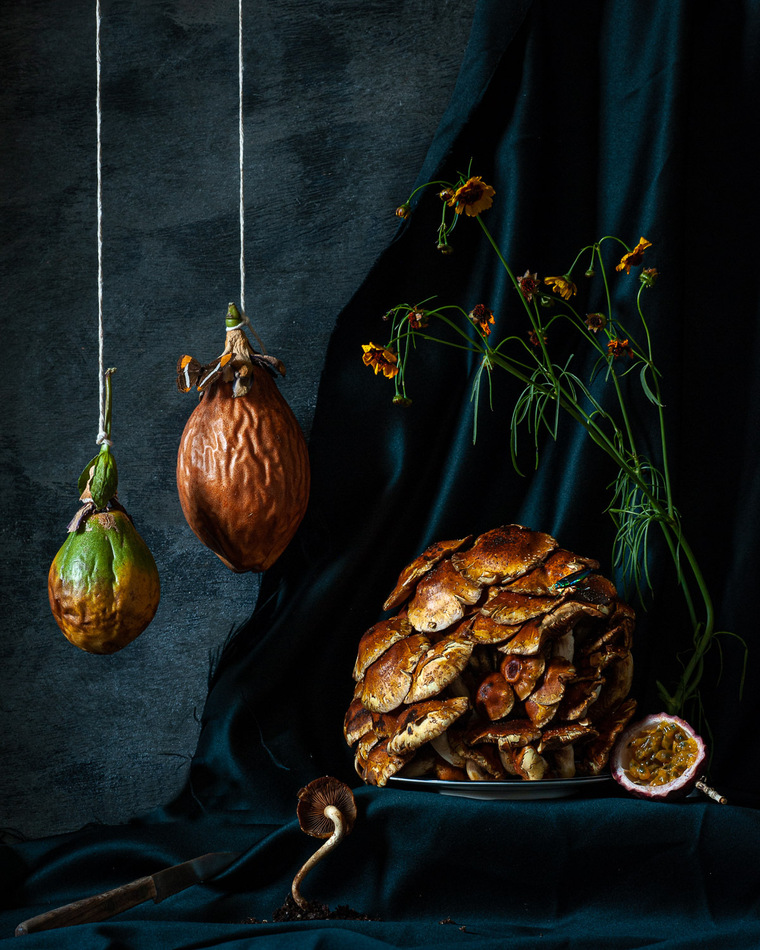 ©Stephanie Shih, Autumn in California
Stephanie believes her second-generation Taiwanese-Chinese American background helped to instill a passion for food because food brings people together, especially in a Taiwanese household. She recalls there being mountains of food on the table at family gatherings, and she admits that as a kid, she loved to play with her food. Her playfulness and those close personal connections to friends and family have come together in this series.
We often think of still lifes as a genre of product or objects, but I think you can get a sense of who a person is based on the objects around them. I see the still lifes I create as portraits. I feel like it's hard to run out of people's stories, so I keep making pictures about them.
©Stephanie Shih, Vase with Ten Bunflowers
For her Off The Clock winning image, Stephanie tells me about her Cambodian American friend Mayly Tao whose family runs a donut shop in Santa Monica. When she knew she wanted to tell Mayly's story, Stephanie dove into researching – including watching an early screening of the Donut King documentary, an immigrant story of Cambodian refugee Ted Ngoy, who built a donut empire and became a multi-millionaire.
I wanted to make a floral image, but it occurred to me that donuts look like flowers – the picture became a portrait of this Cambodian family.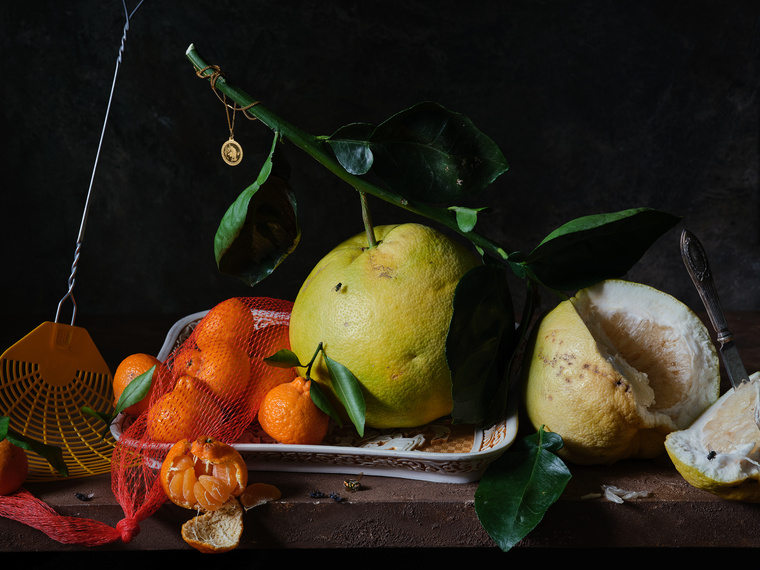 ©Stephanie Shih, An Auspicious Start to the Year of the Tiger
Stephanie's still lifes begin with significant research (remember scientist's brain). She starts collecting objects for the photograph. (Side note - she studied the donuts for a week!) to discern their structural integrity.) Her bathtub doubles as a flower-holding area where she waits for them to bloom - and they never seem to at exactly the same time. Then Stephanie constructs the set and makes the photographs – all in her two-bedroom LA loft apartment. I think Vermeer would be impressed.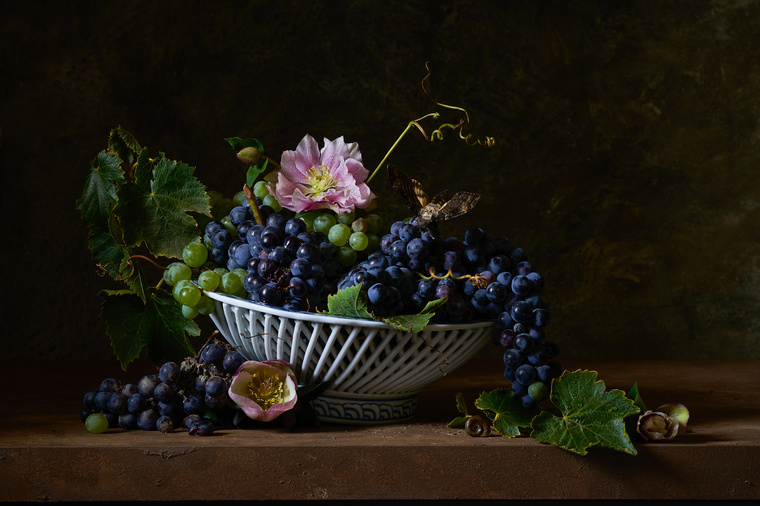 ©Stephanie Shih, 倒吐葡萄皮
Sometimes, I think we have this stereotypical idea of what AAPI should look like in the US. While there are Asian vases and other objects in my images, something like donuts are not overtly associated with Asian culture, and I think that's intentional on my part. I don't want to perpetuate those stereotypes. I want people to see that the AAPI culture can be much more than the stereotypes forced upon us. Sometimes people tell me to make them more Asian – like by adding cabbage (she laughs), and I've resisted.
While Stephanie loves to make fine art, she loves editorial and commercial work because they allow for a variety of projects that satisfies her creative side. She brings the same deep research to her client work that she does in her personal work.
It's so important to me to understand the food I'm shooting or the story behind the brand – it just really informs the image.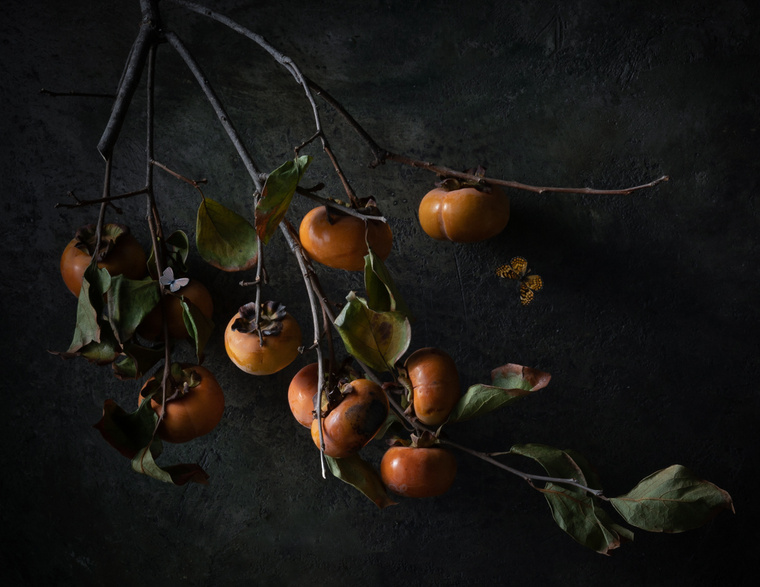 ©Stephanie Shih, Dad's Favorite, Fall
Stephanie Shih currently lives in Los Angeles, and when not in the studio or kitchen creating, she is a professor at the University of Southern California. She is known for her painterly use of shadow applied to playful perspectives on food. Shih started making photographs with her dad's half-frame camera on childhood road trips but only took up photography seriously later in life while in graduate school.