Women in Photography: Visual Disruptors 2020
Event Postponed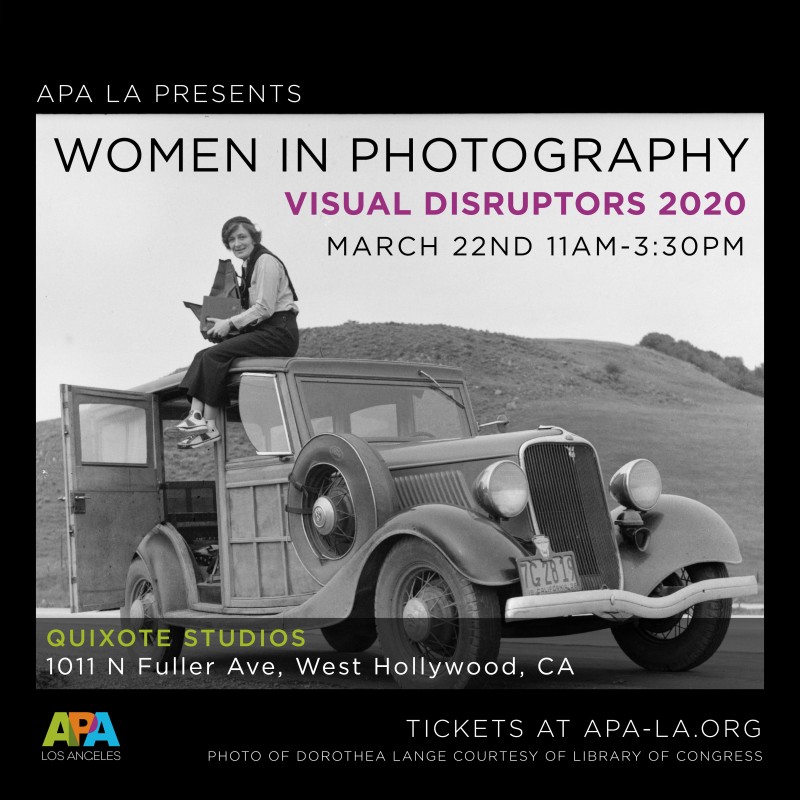 APA LA WOMEN IN PHOTOGRAPHY 2020: VISUAL DISRUPTORS
Event Postponed until September 13
March is Women's History Month and what better way to celebrate than to inspire a community.
APA Los Angeles would like to invite you to join us as we support and celebrate women in the photography industry at our third annual Women In Photography Event.
The panels will cover topics such as diversity within the industries, women's advancement, work/life balance, the creative process, social media, mentorship, activism, challenges working women continue to face on set and beyond.
This is a teaching moment! We are so honored to have two unique panels of successful women share their stories with us. Come grow, learn, network and get inspired.
TWO DYNAMIC PANELS - ONE GREAT EVENT!
Make a day of it. 11:00 a - 3:30 p
We will provide lunch.
The day will begin with a panel discussion, then a networking lunch break followed by our second panel discussion.
PHOTOGRAPHER PANEL:
MODERATOR: CECILY CHAMBERS
CREATIVE PANEL:
CLARISSA GARRETT - 72 AND SUNNY
KIM GETTY - DEUTSCH
ADA GUERIN - LOS ANGELES MAGAZINE
KATIE HAWKINS - QUIBI
AUDREY LANDRETH - APPLE
RACHAEL LIEBERMAN - PRODUCER
HEIDI VOLPE - PATAGONIA
MODERATOR: MONICA ZAFFARANO
ALL ARE WELCOME TO ATTEND:
Photographers
Creatives
Consultants
He/She/They
March 22, 2020
11 am - 3:30 pm
Quixote Studios
1011 North Fuller Avenue
West Hollywood, CA 90046
NOTE: LIMITED PARKING. WE SUGGEST USING A RIDE SHARE SERVICE.