APA Scope: Diversity & Inclusion Feb 1, 2021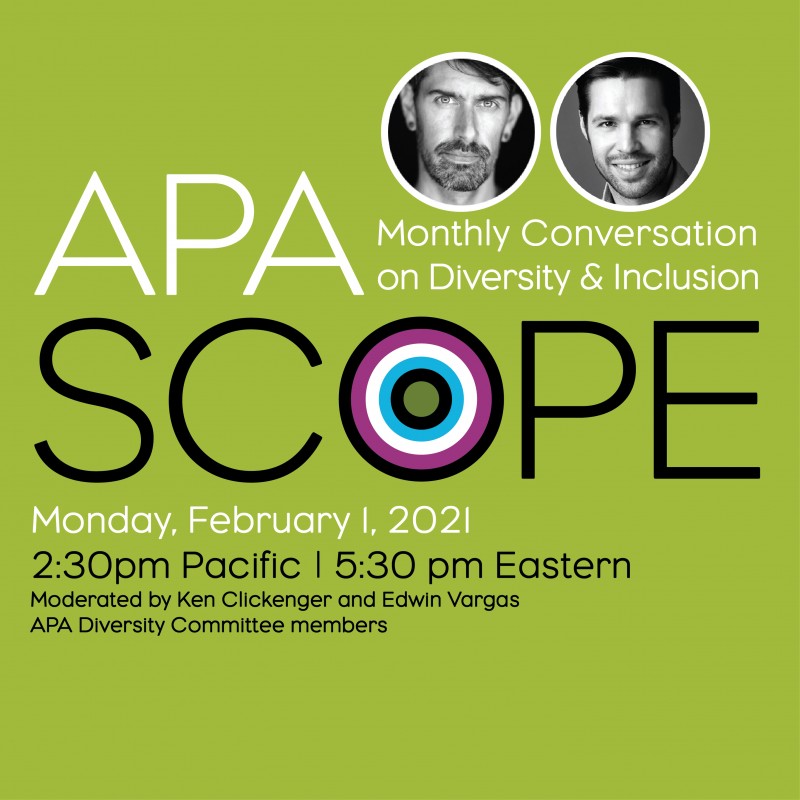 Monday, February 1
PLEASE NOTE- Change of time for February
The presentation will begin at 2:30 pm Pacific/ 4:30pm Central / 5:30 Eastern
Following the presentation, we will open the discussion for an open Q&A - you can choose to have your camera on at that time or send your questions via the Chat.
Join moderators and APA diversity committee members Ken Clickenger and Edwin Vargas for a panel discussion among queer-identifying photography professionals to explore their experiences and what inclusivity means in practice. Queer allyship, anti-homophobia, gender pronouns, and working queer in a heteronormative world.
Ken Clickenger (he/him) is an image-maker at heart, an educator by nature, and business manager by trade, Ken Clickenger wears many hats. His photographic work typically includes cultural and environmental themes, charged with personal perspective and social commentary. Through his work with diverse student populations and communities affected by HIV/AIDS, Ken is deeply connected to pursuits of equitable access and strives to practice radical inclusion. As a queer person, he identifies with and honors those who have and continue to face prejudice and discrimination, and is particularly grateful to the bold trans women of color who so pivotally helped pave the way toward LGBTQIA+ equality. Ken is co-owner of Capitol Art studios, teaches a digital imaging class at City College, and is a board member of APA San Francisco.
A Pura Vida, Costa Rican Latinx residing in beautiful Oakland, California. Edwin is a passionate photographer and documentary filmmaker. With over a decade of experience in the industry from Costa Rica to Panama, Mexico, and the United States, his work has continued to gain international success. His heart has lead him to focus on Black women empowerment and LGBTQIA+ rights. Some of his most recent projects have been exhibited at Instagram, Facebook, and the Asian Art Museum in San Francisco.
Guests:
Ash Danielsen (he/him) -
Quick Bio: Ash is a transmasculine conceptual studio photographer who enjoys capturing members of the LGBTQIA+ community in all of their splendor. Juxtaposing acid-trip colors with melancholic characters, he draws a surreal picture of what it means to be alive in this day and age. He lives and works in Los Angeles.
Website/IG: www.ashdanielsen.com
Mariya Stangl (she/her/they) -
Quick Bio: Mariya is a contemporary commercial image designer who pushes the non-traditional. Her expressive style is showcased by: strength and softness, mood, vibrant color, and attitude from her diverse models. She uses stylistic narrative to comment on contemporary gender roles, social justice, racial equality and redefining beauty standards.
Website/IG: mariyastangl.com @mariyastanglphoto
Nolwen Cifuentes (she/her) -
Quick Bio: Nolwen is a first generation Colombian-French photographer and director, born and raised in the desert of Southern California. She now resides and works in Los Angeles. As a mixed race queer woman, her identity plays an active role in the type of narratives she is drawn to. Exploring portraiture within the landscape of American culture, Nolwen's photographs deal with vulnerability and gaze between both subject and viewer. Nolwen approaches each portrait with openness and curiosity. Her images are a collaboration between herself and the person she's photographing. Leaning in to the energy of her subjects, Nolwen evokes a sense of authenticity and compassion to whoever sits in front of her lens. Nolwen is also passionate about service within the photography community. She helps freelance creatives learn financial management and wealth building.
Website/IG:
Website: www.nolwencifuentes.com
IG: @nolwencif @dontbe.astarvingartist
Akshit Bhardwaj (he/him) -
Quick Bio:Akshit Bhardwaj was born in New Delhi,India. Growing up gay in the midst of urban chaos, hot pot of different cultures and politics has given him a unique perspective on human psychology. This ideology can be sensed in his work, where the viewer is intrigued by the plasticity of a harmonic chaos which is stylistically expressed through clashing colors that emote the feeling of claustrophobia within the image. His photographs have been featured numerous times at Vogue Italia (vogue.it), Elle Magazine(USA), Elle Magazine(India) .
Website: www.akshit.us
IG: @akshit_bd