APA NY World Photo Fest - Zoom All Day, August 19, 2020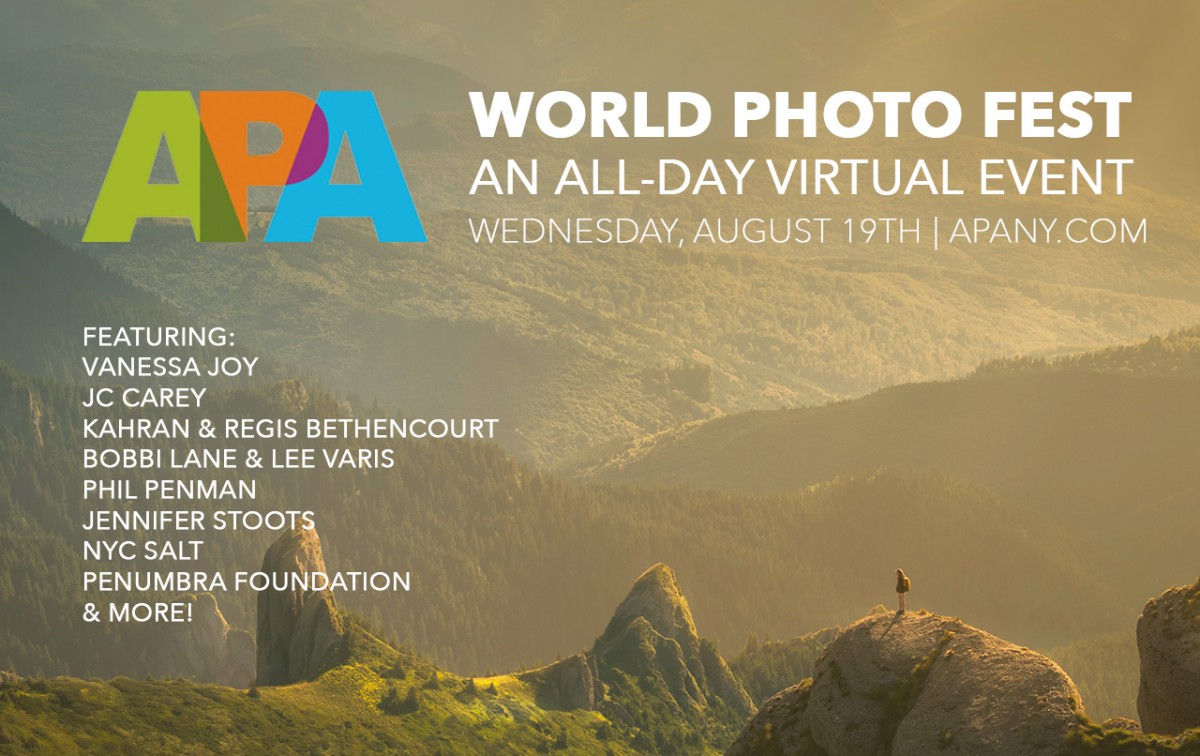 Join us for APA's first World Photo Fest! We wanted to do something special for the community this year since most photographers won't be able to celebrate outdoors. We have an incredible line-up of webinars to get you inspired.
Schedule:
10am - Vanessa Joy: 7 Ways to Market Your Photography Now
Every brand needs a facelift now and again, and you might as well do it while pumping up your marketing efforts. Join wedding and portrait photographer Vanessa Joy as she gives her sure-fire ways to getting your work seen and making you easily hirable.
12pm - JC Carey: From Fear to Flash
Have you been frustrated with lighting? Do strobes and flashes intimidate you? Do you have a headache when adding artificial light to a scene? Have you been stuck creatively with your photography? If you've always wanted to get better results with your lighting but were fearful of the process then join JC Carey as he demystifies lighting into the simplest steps possible so that anyone with a basic understanding of camera functions can start producing more dynamic images immediately. With tips and tricks that can be used with any lights you add to your creative arsenal JC will talk about the basics and dive into some more advanced concepts. In three easy steps JC will take you from Fear to flash. Sponsored by Westcott.
Topics covered:
Lens selection and how it relates to lighting
Process used to make lighting simple
TTL vs Manual
High Speed Sync/Rear Curtain Sync
Off Camera Lighting
Modifying the light
2pm - Kahran & Regis Bethencourt: From Passion to Profit
In today's market, it's becoming more important to set yourself apart in a sea of photographers. Differentiating your brand with niche marketing allows you to focus in on a targeted audience and become an expert who stands out from the crowd. International child photographers, CreativeSoul Photography, will discuss how they've been able to build a unique, globally recognized photography brand that started from a passion project.
4pm - Bobbi Lane & Lee Varis: Hollywood Glamour in the Hurrell Lighting Style
Join Bobbi Lane and Lee Varis to explore the world of Hollywood glamour, and learn the photographic style of George Hurrell. George Hurrell spent the last 12 years of his life shooting in Bobbi's LA studio, during which he experienced a revival of popularity for his classic style—you will be learning from her first-hand experience with George's creative approach to lighting, styling, and posing! They will show some of George's iconic images, shot on 8 x 10 with big Fresnel focusing spotlights and then show their own images created in recent years. Bobbi and Lee will show you how to achieve the look of the classic Hollywood glamour images of the 1930's & 40's using modern lighting tools and digital retouching techniques.
6pm - Phil Penman: Street Photography - Unfiltered
Historical events are happening all around us all the time. As photographers we have an ability to be able to share stories and capture world events in real time . Learn about the thought process behind picking a subject, capturing it and getting it out into the world.
NYC Salt: Photography for Good
Jennifer Stoots: Daguerreotypes: The Birth of a Medium
Penumbra Foundation: Contemporary Artists Using Daguerreotypes
Raffle:
We will also be having a raffle throughout the day. Must be based in the US and present in the chat to claim the prize. The first $20 donation includes one raffle ticket and every additional $10 will give you an extra 3 tickets. All donations will go towards APA New York to help fund the programming and advocacy for our community. We thank you in advance for your support!
Raffle Prizes:
1 year of a Contributor membership to APA ($50 value)
1 year of a Professional membership to APA ($350 value)
Box of Hahnemühle 13"x19" Agave paper ($114 value)
Vi Vante Camera Bag ($400 value)
$50 gift card to Westcott
MORE TO BE CONFIRMED!

Whether you are able to attend or not, we'd love for you to submit a video to be included in our World Photo Day montage:
Selfie video that's 20 seconds max
It can be made on your phone but make sure it's the horizontal/ wide orientation
Starts off with "Photography is..." and finish the sentence with what photography means to you
Submit here by Friday, 8/14 at 3pm EDT: https://www.dropbox.com/request/jzpHVk7Ps6Fd397VPj6j
Photo: David Marcu