APA LA & AskSternRep: Navigating the Unknown June 25, 2020
Join us for this Q&A series with Andrea Stern of @AskSternRep as she speaks to different members of the photo community about ways to navigate the new road ahead.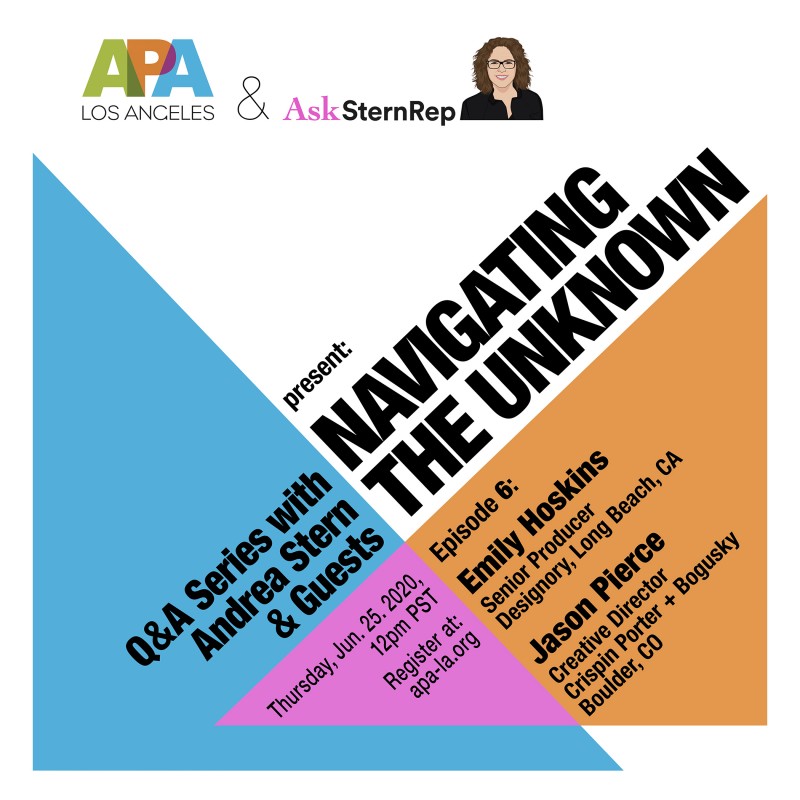 Thursday June 25th - Episode 6:
• Senior Art Producer/Designory - Emily Hoskins
• Creative Director/Crispin Porter Bogusky - Jason Pierce

Andrea Stern:
Andrea Stern is the founder of SternRep, an LA based, boutique agency representing a group of passionate and talented commercial photographers in the product, automotive and lifestyle industries among others.

She is also the founder of @AskSternRep – a free resource forum for photographers and entrepreneurs.

https://www.sternrep.com @asksternrep

Emily Hoskins:
Emily is a Sr. Producer at Designory in Long Beach, California where she works with clients like Subaru, Infiniti & Nissan. She's spent time as an agent and advocate for photographers and directors on the rep side of the business and currently applies that experience to her agency productions. She has been cartwheeling the finish lines of Ironman triathlons and marathons for the last ten years and she has her hopes set on returning to Africa to climb Kilimanjaro as soon as it's safe to travel.

Jason Pierce:
Detroit native, music lover and sneaker snob, Jason has had a life-long love affair with the art of creative expression. He started his career working with music artists around the US and abroad, which ultimately landed him in the ad world. Over the last five years at CPB Jason has led a variety of brands including Infiniti, 1800 Tequila and Goose Island Beer Co. Before CPB, Jason worked at a number of agencies where he focused on Ford, GM, Chrysler, Walmart, Gatorade and State Farm. A passionate photographer, Jason received a degree in fine art from the Cleveland Institute of Art and lived in Germany for a time studying design and music. He enjoys the occasional mountain view, but remains a city boy at heart.
Watch previous episodes on YouTube.