APA Biz Talk - April 28, 2020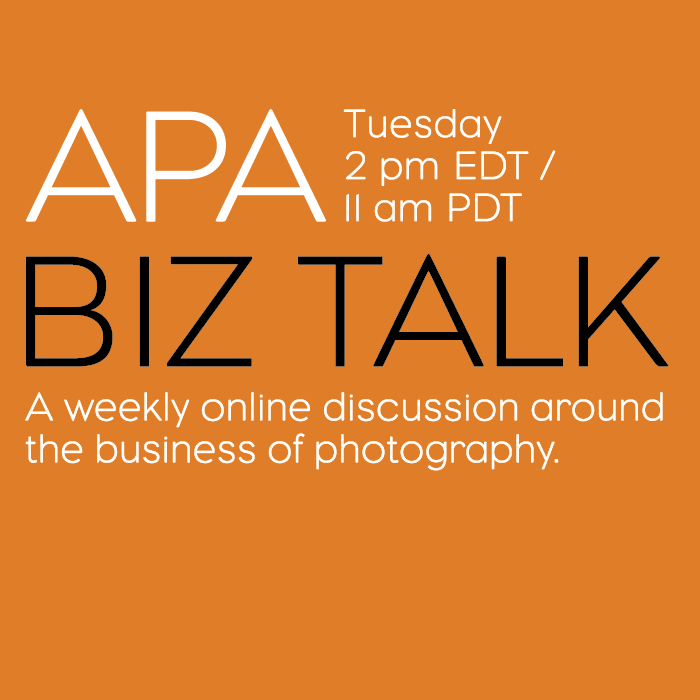 APA BIZ TALK is our new, online series discussing business issues relevant to the photo community.
Each week we will take a deep dive into specific topics including financial, legal, contracts, copyright, and marketing.
What Work Looks Like Now & in the Future
As we are faced with unknowns when it comes to getting back to work we do have control over what kinds of things we can be doing right now to feel as empowered as possible. This week on Biz Talk we are inviting people who are thinking up creative ways to make something happen within the circumstances we are under.

Samantha Isom is a Photographer/Director and DP/Camera Operator based out of New York City and creator of the online journal and travel show BrownPassport.com. She is teaming up with an OSHA professional to create a training to help photography productions be COVID-19 compliant.

Jim Baldwin has been scouting and managing locations in the San Francisco Bay Area and beyond since 1987. He has worked with agent Heather Elder to establish Create In Place, a service that is connecting creators with buyers during Shelter In Place and as we emerge.

Executive Producer Monica Zaffarano of Trybe Production Collective is interested in getting the discussion going among the production community about keeping crews safe once we as an industry can work again. She produces worldwide and works as a local in both the LA and Chicago markets. Trybe is a leader in advocating sustainable / eco friendly sets.